Camden Ronald McDonald House
Ronald McDonald House programs, located near top children's hospitals, allow parents who are far from home to stay close to their hospitalized child and benefit from the comforts of home without incurring hotel and food costs.

Dominique visited the children at the Ronald McDonald House in Camden, NJ on December 9th. Everyone had such a good time! Dominique brought so much happiness, love and smiles as all these photos show. We almost missed the little girl and her mother in the last picture. They were just coming as we were leaving.
On December 4th, The Mill of Red Lion, in PA had a special event for pets to bring their owners, so they could have their photos taken with Santa. The Mill is a sponsor of Dominique's Smiles and he was the Greeter! Dominique especially enjoyed meeting Santa Claus and having pictures taken with the jolly man! He also enjoyed watching the special demonstrations by T-Boyz Designes as they made pictures frames, key chains and other special gifts during the day!

Dominique visited the residents at Dallastown Manor Care on November 5th. We always show pictures of the people we visit, but the staff is important to us as well! Everywhere we go it is the staff that makes everything run smoothly. They make residents, patients, and people in their care feel needed and loved. However, staff and directors have these very same needs. As you can see, Dominique understands, and his love is given to everyone. He also makes them laugh - it's not every day you see the back end of a little horse sticking out of a doorway!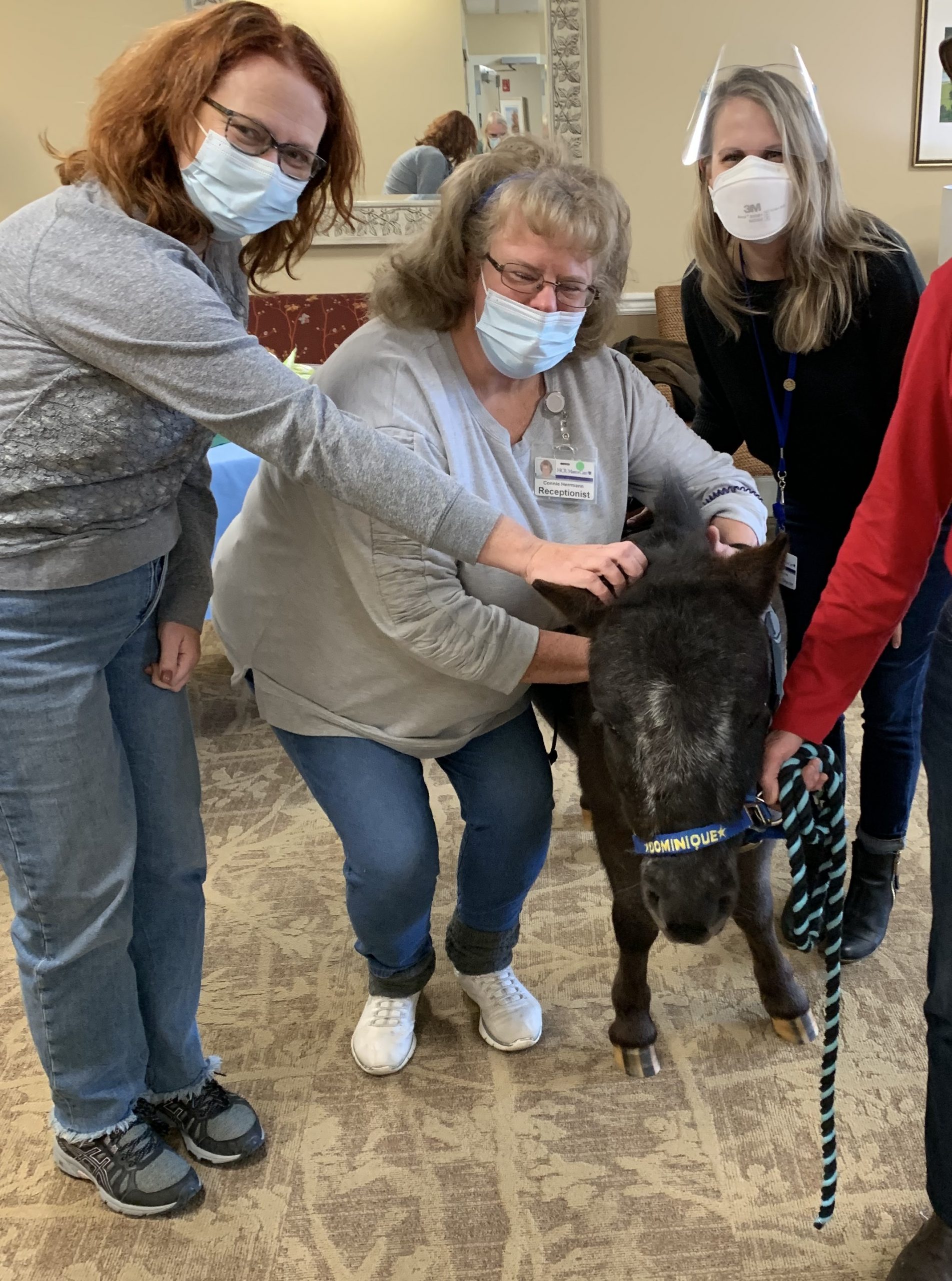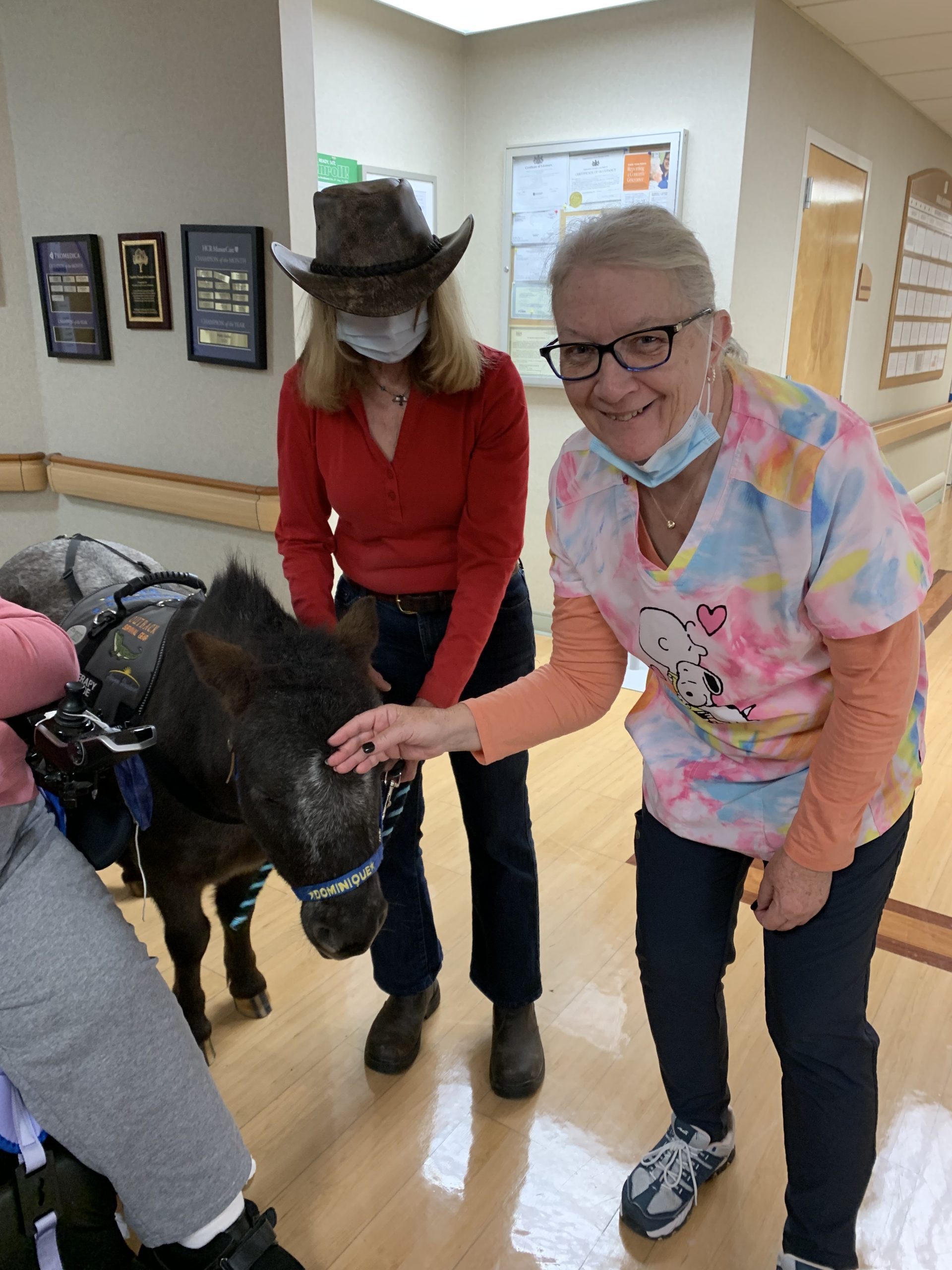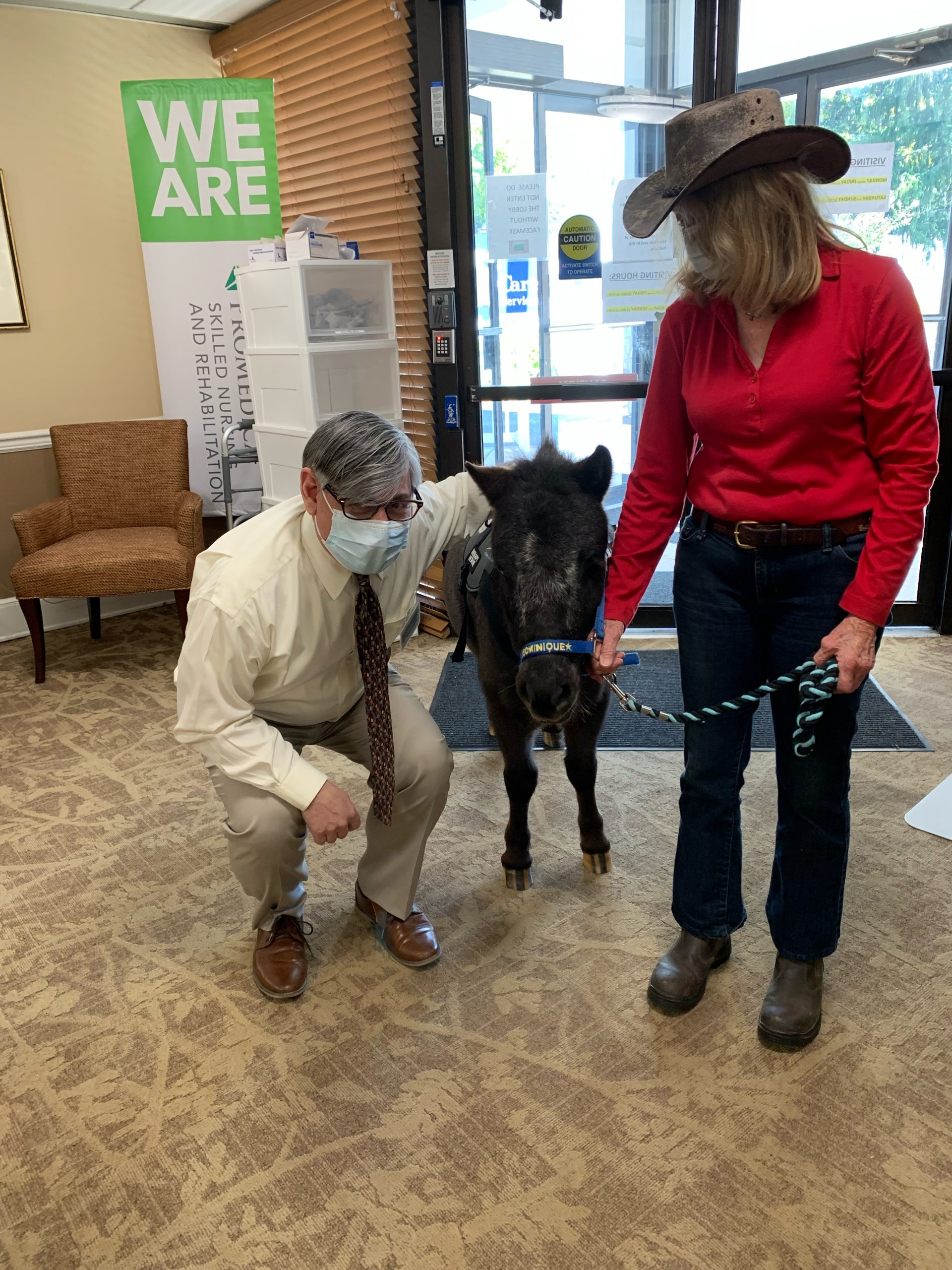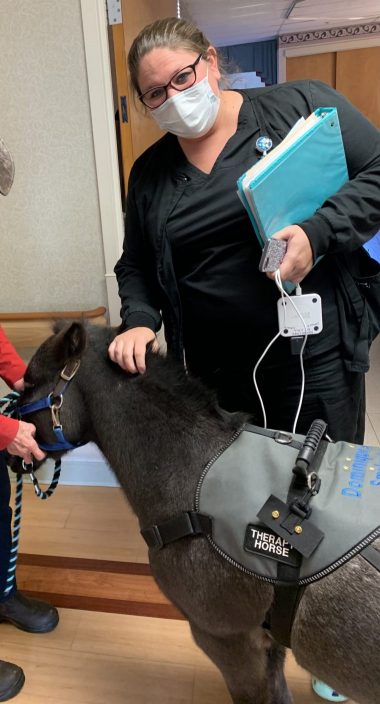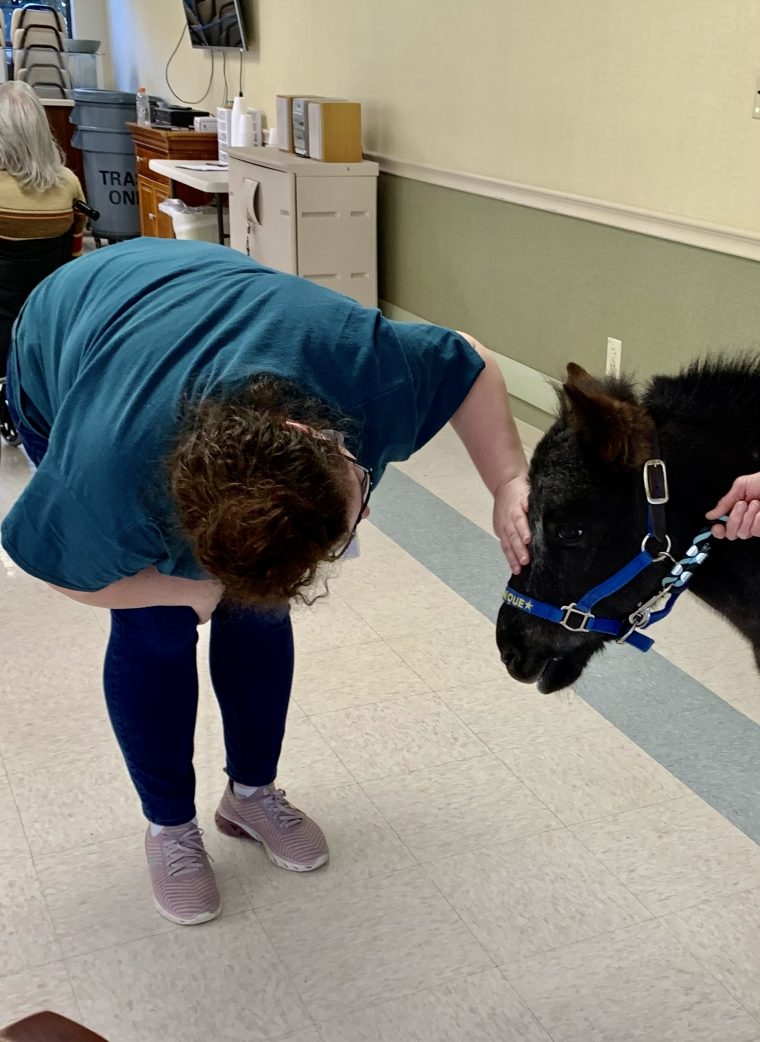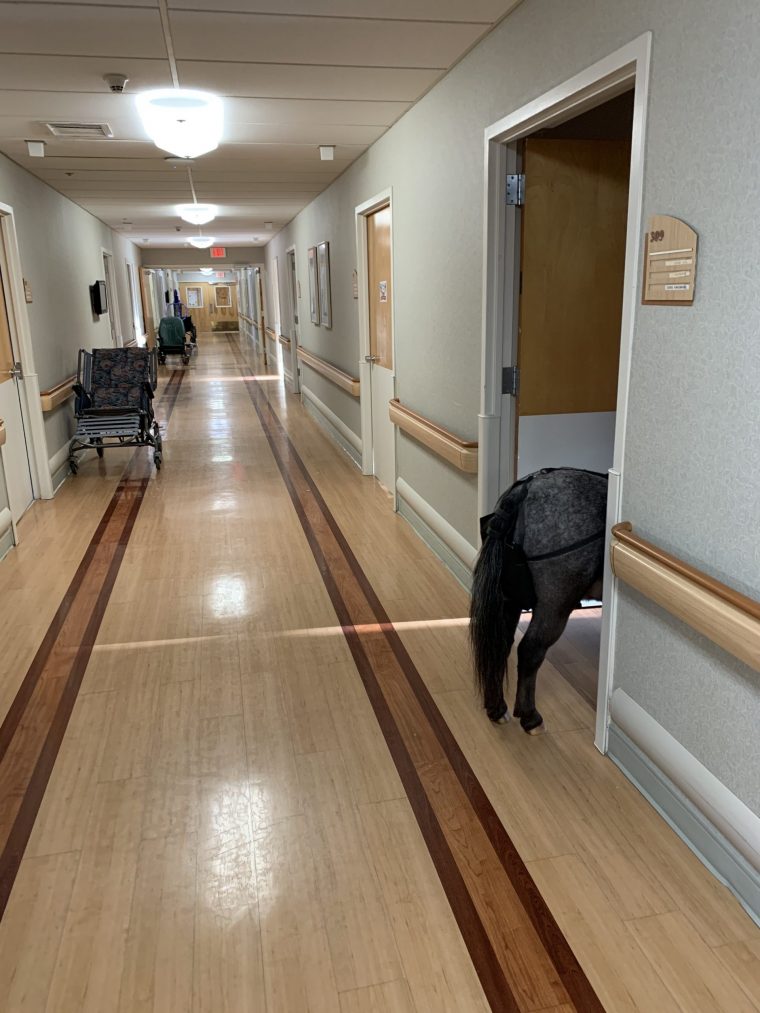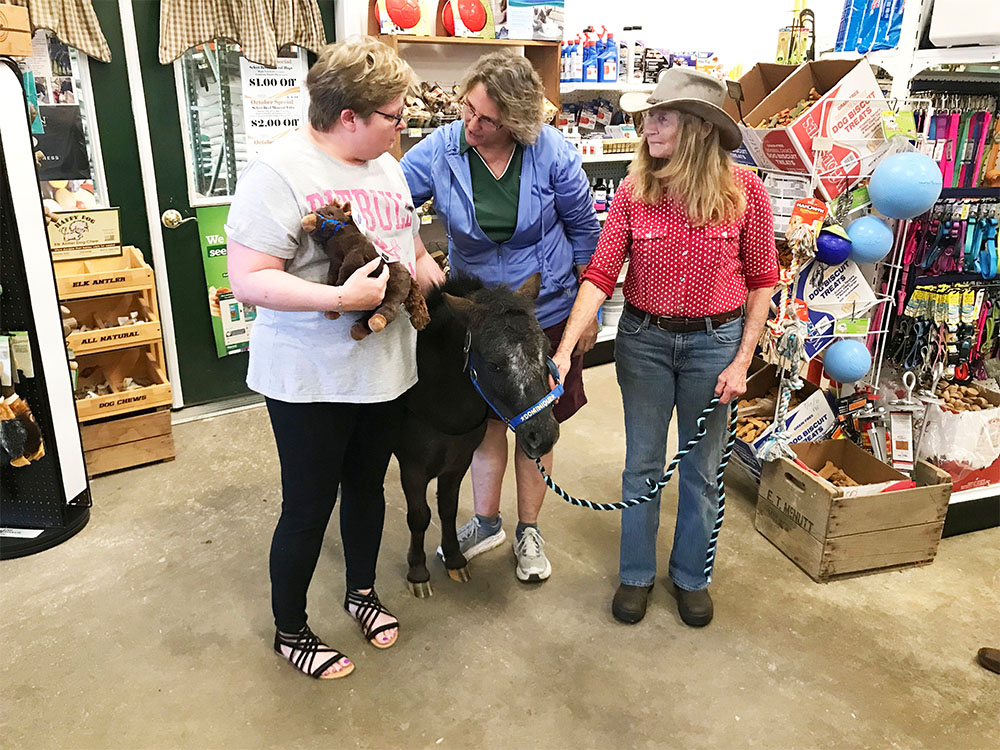 I guess this woman was one of the reasons we were there at The Mill of Red Lion's event in PA on October 9th. She and her husband were driving by and when she saw Dominique she was so delighted they had to stop and meet him! She has a very aggressive form of cancer. On the following Monday she was to begin chemo treatments for quite a long time and then lots of radiation. When she told me her story, and how just petting Dominique made her feel better, I told her to follow us into The Mill. There Beth, the manager, surprised her with a plush Dominique! Her husband later told me she is planning on taking the Little Dom with her for every treatment.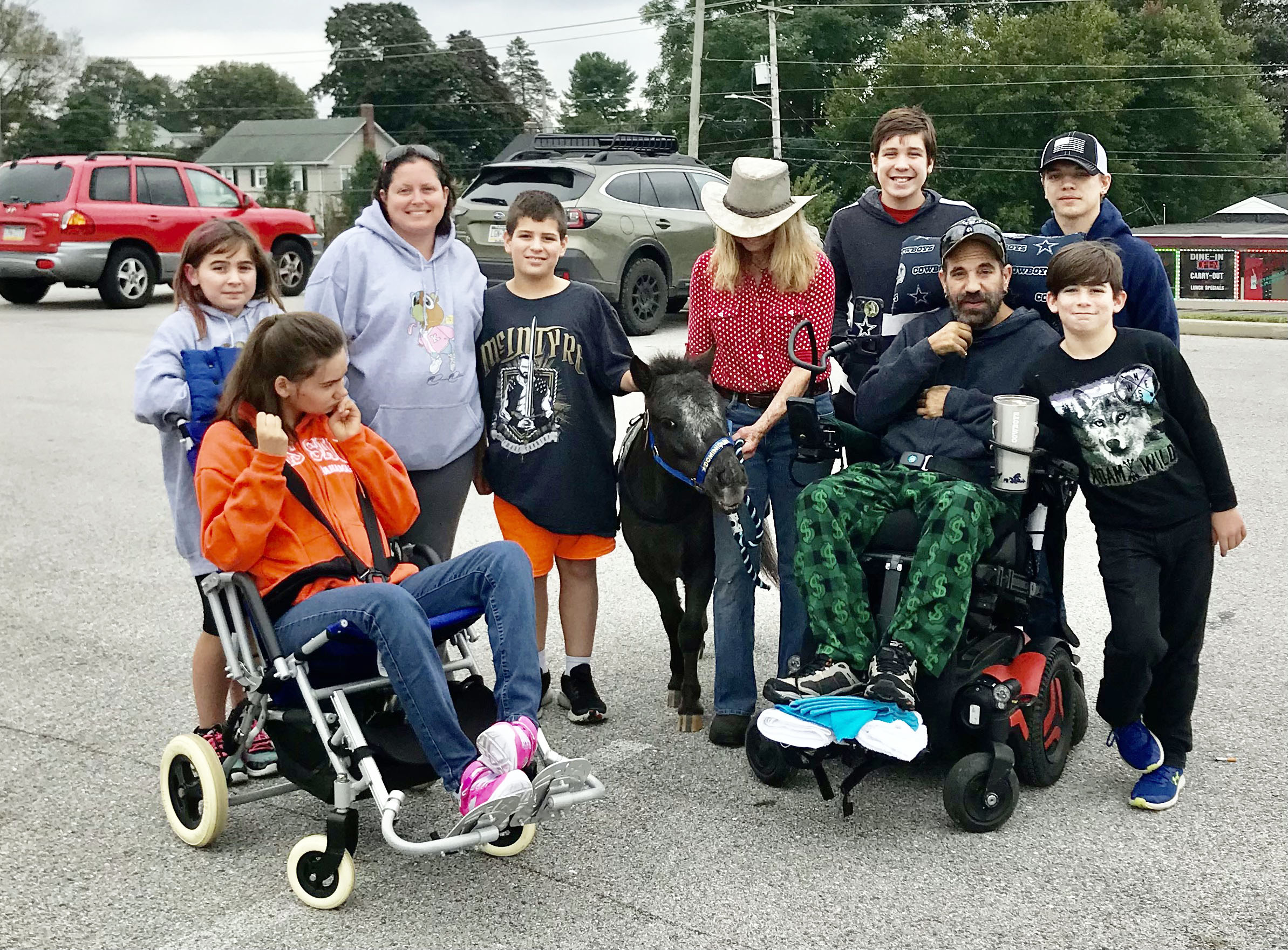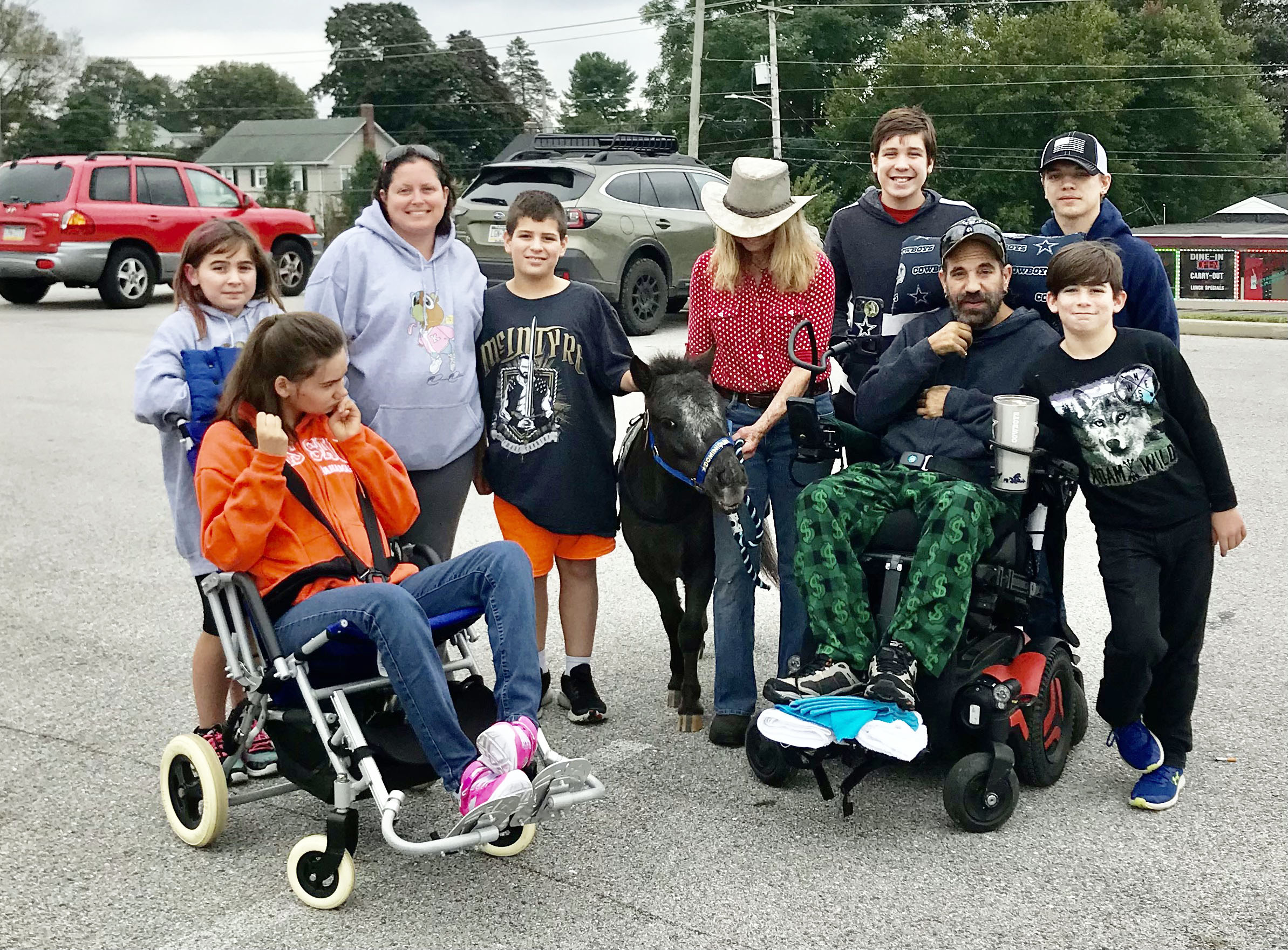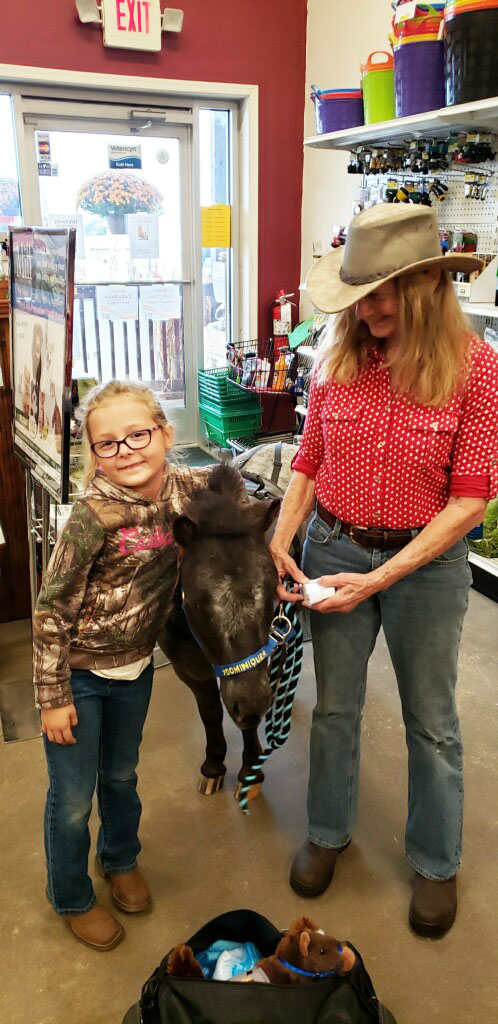 Wilmington Ronald McDonald House
Ronald McDonald House programs, located near top children's hospitals, allow parents who are far from home to stay close to their hospitalized child and benefit from the comforts of home without incurring hotel and food costs.

On October 19th in the late afternoon Dominique visited Supergirl and the other excited children at the Wilmington, DE Ronald McDonald House! These kids are all Super Heroes and Dominique was pleased to bring them lots of smiles. A recent posting on Facebook by staff stated, "Our House got a visit from Dominique's Smiles yesterday! This miniature therapy horse may be small, but he gave our families (and staff) some big snuggles! Thank you, Dominique!"
Camden Ronald McDonald House
Dominique was invited to visit the Camden Ronald McDonald House on September 14, 2021. These photos are a gift to everyone who is a part of Dominique's Smiles and has helped to make this ministry happen. If you could see through their masks you would see all the smiles that Dominique brings, not only to sick children, but their families as well. The world is full of caring, loving people!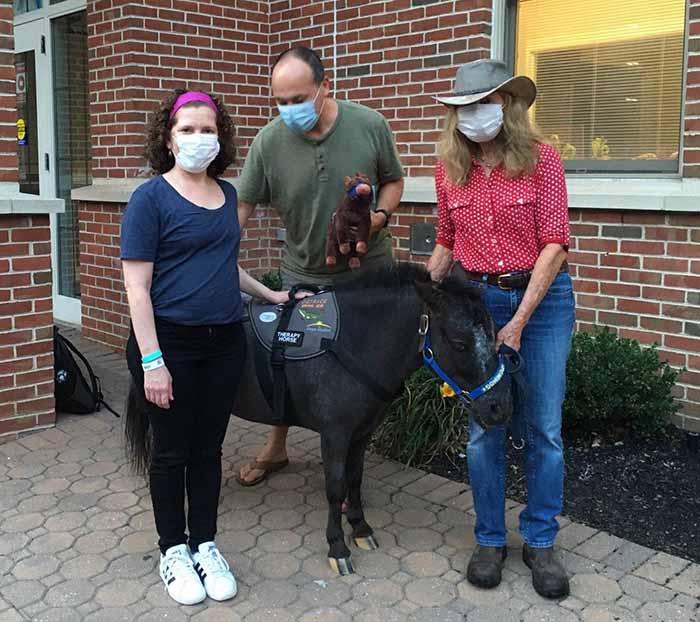 This couple's baby is in the hospital. They were thrilled to receive a plush Dominique to place by their baby's hospital bed. They plan to take a photo of their baby with the little horse every year as a reminder of their stay at the Ronald McDonald House and all of the caring people they met there.

Baltimore Ronald McDonald House
Dominique was invited to visit the children and their families staying at the Baltimore, MD Ronald McDonald House on July 26. Judging by the smiles on the faces of the children in these photos, Dominique did his job well! For the children it was a welcome break from the daily regime of pain and cancer treatments. For the parents and siblings it was an opportunity to see the pure joy on their child's face as they interacted with Dominique. It was the first time many of them had ever seen a live horse up close. Each child was given a plush Dominique to keep due to the caring people who make donations to Dominique's Smiles.
Spring Forge Intermediate School Visit
Dominique visited a total of 20 excited students in three classrooms at Spring Forge Intermediate School in Manchester, PA on May 25th! Each class visited Dominique's website the day before his appearance to learn all about Dominique. The students wrote good questions to ask us when we arrived the next day. After questions were answered, Sandy told a story about how bullying hurts and that it is good to be different using Dominique as an example. Each student received a plush Dominique to remember their visit.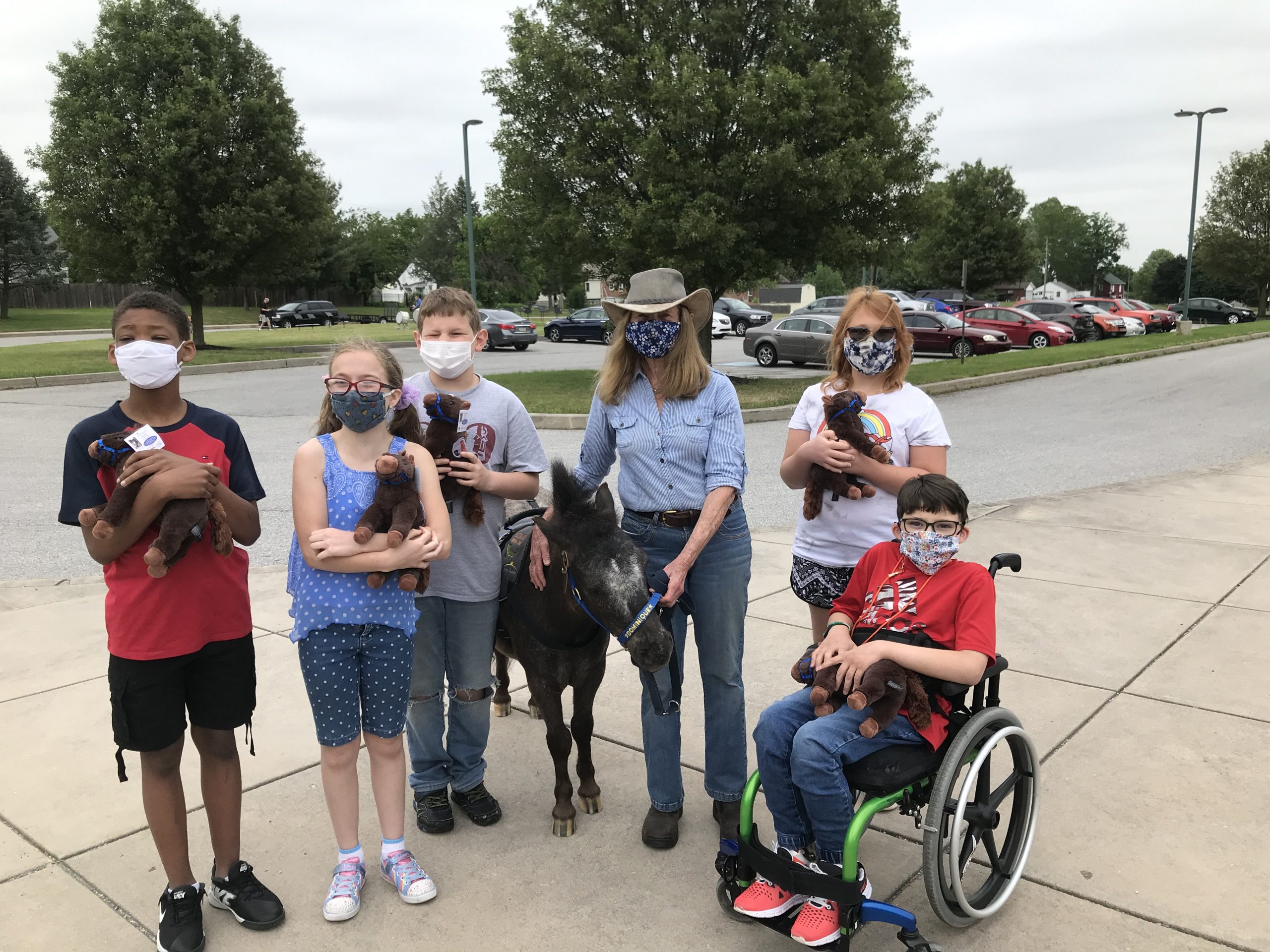 Mrs. Thompson's Class: Alex Aponte, Star Malave, Ben Alessi, Ava Eisenhour and Alexander Schaeffer
---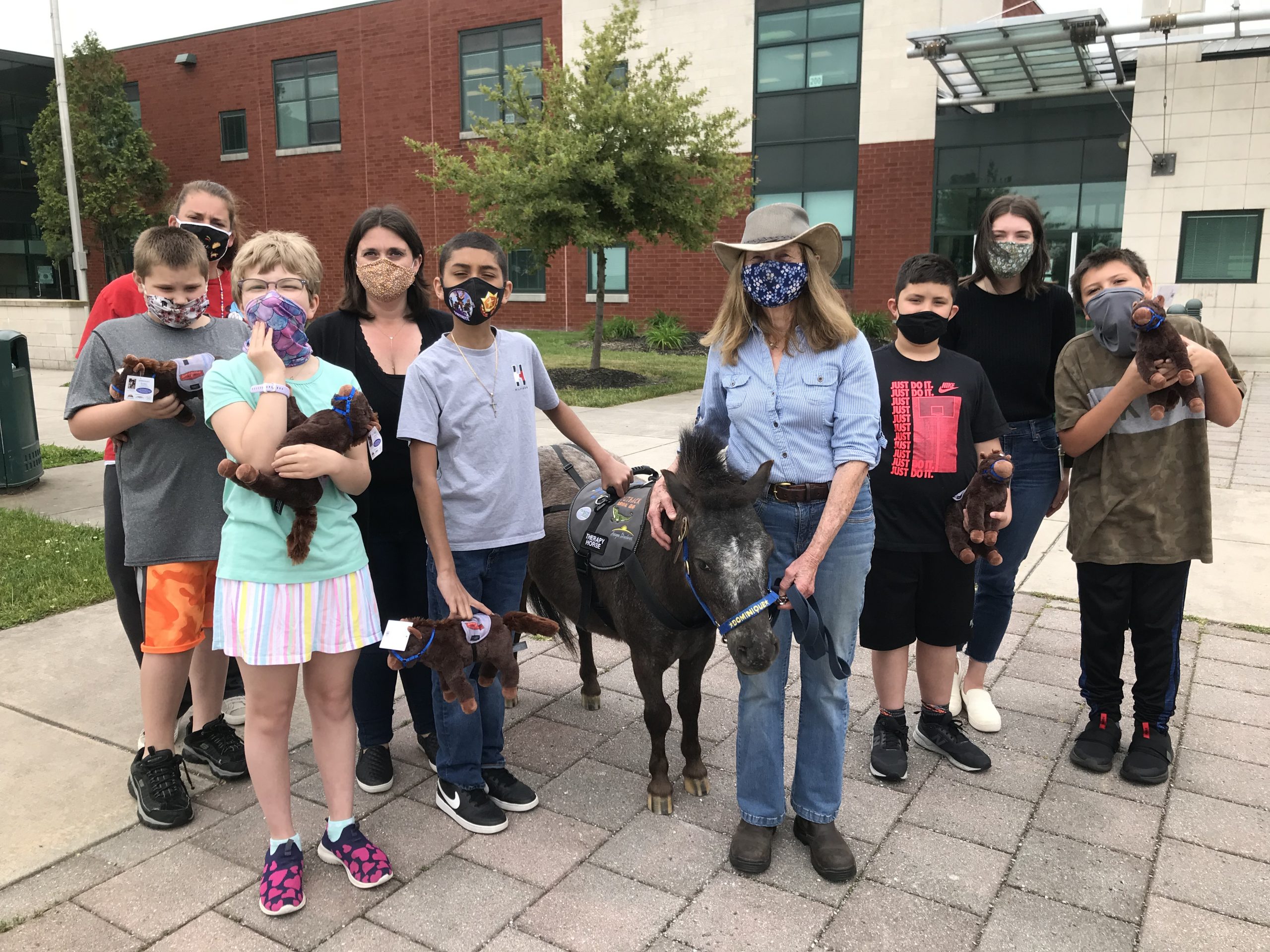 Miss Laird's Class: Jacob Haapala, (Miss Kayla), Natasha Boltersdorf, (Mrs. Shank), Yandiel Martinez, David Maldonado-Padon, (Miss Laird) and Matao Roldes
---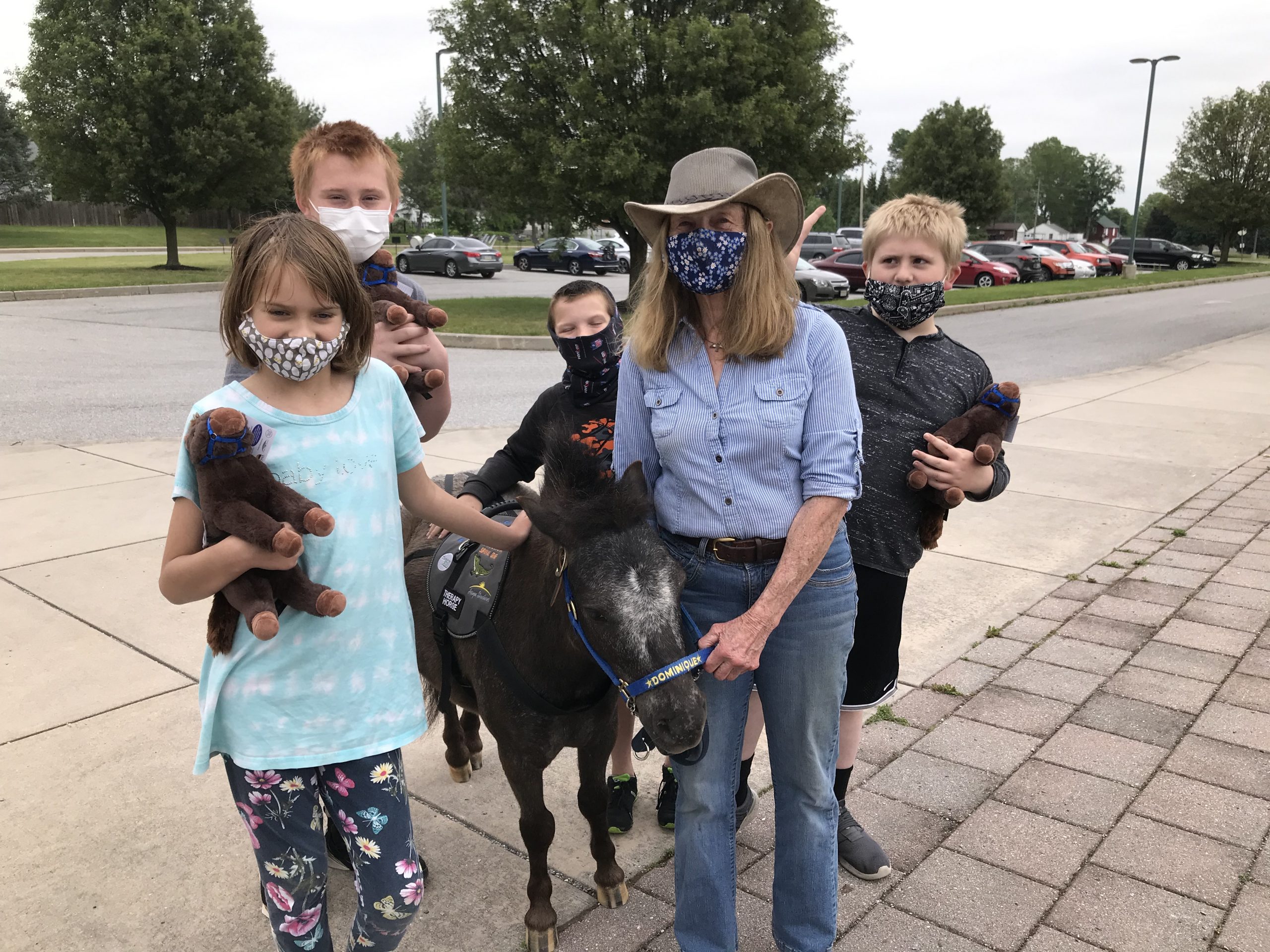 Mrs. Stephens' Class: Tabitha Gominger, Mason Diffenderfer, AJ Schlasta and Devon Wise
Bob, who lives in the York area, received a surprise Birthday Visit from Dominique on December 6, 2021! Virginia, a friend, also enjoyed the visit.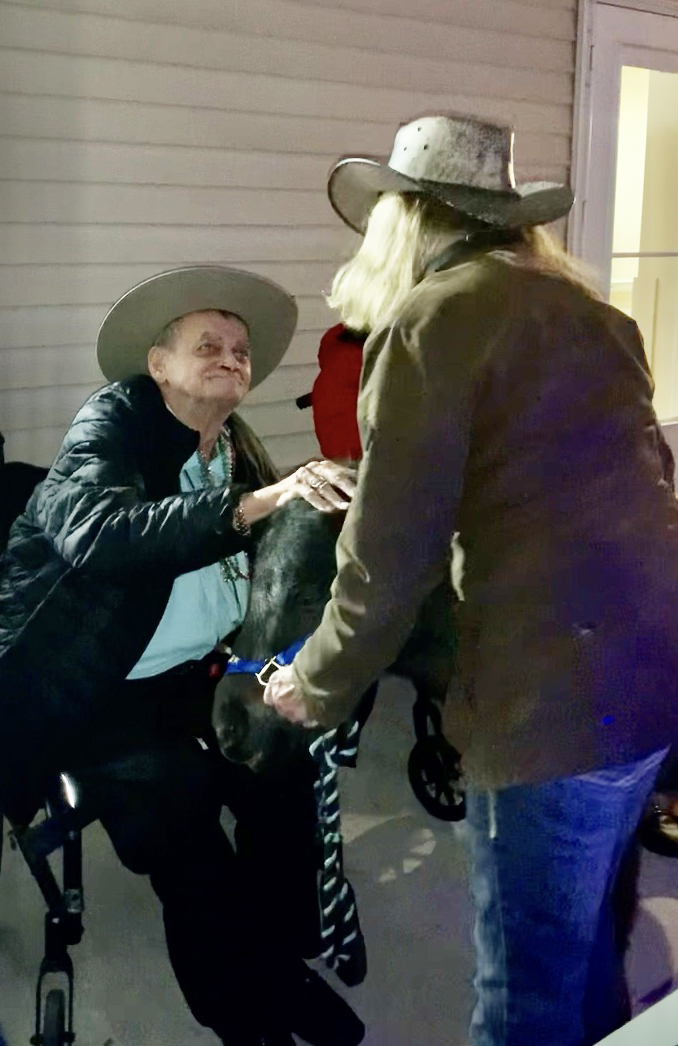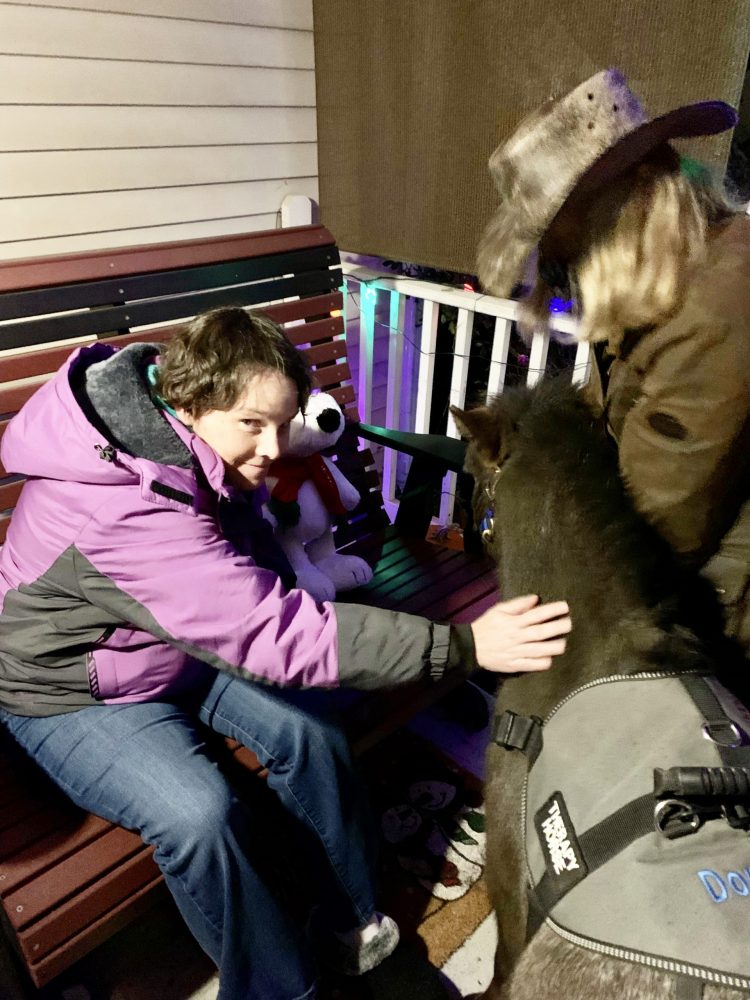 A Visit With Mary
Dominique stopped by to see Mary Anne Kilgore every time he visited Dallastown Manor Care. They both looked forward to their time together. Mary Anne passed away on November 25, 2021. Our visits will be missed. It is an honor her family chose this photo of our last visit in November to be in her obituary. Dominique surprised the family by being at Mary Anne's graveside service.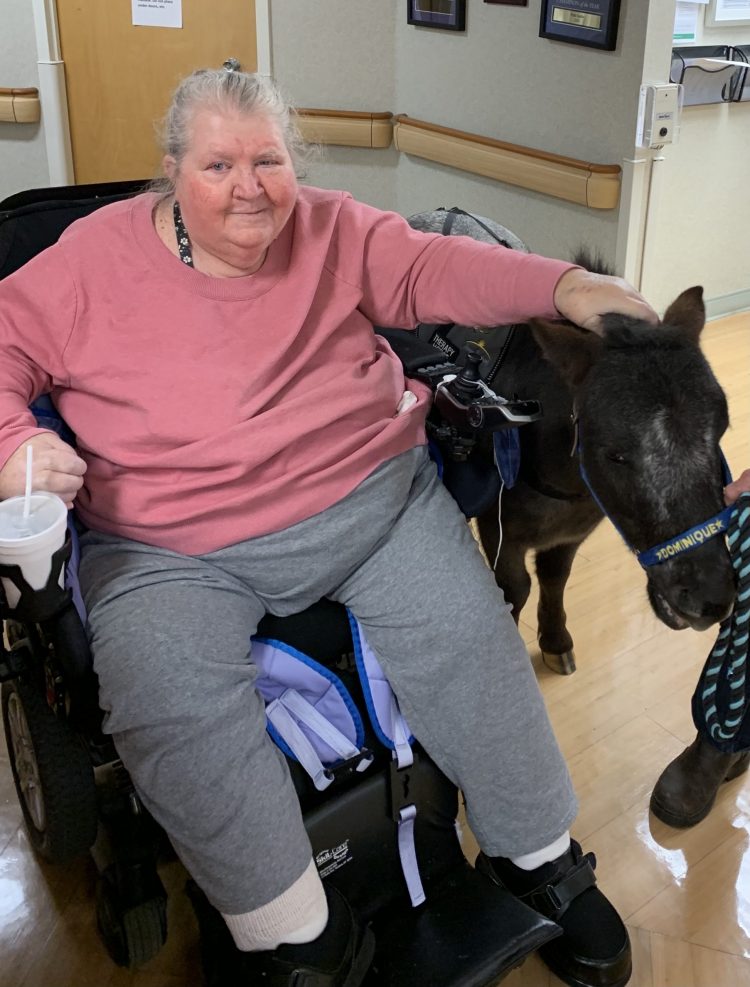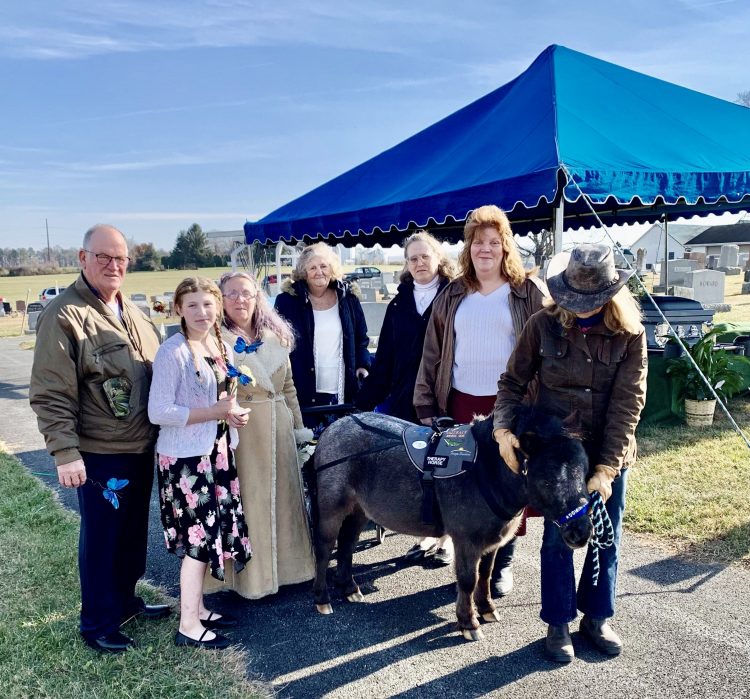 A Visit With Vivian
Dear Dominique Smiles,
Thank you so much for the wonderful experience with Dominique. My daughter has never seen a horse but absolutely loved brushing and petting him. The interaction seemed to relax her. Dominique is so gentle that she had no fear of riding him. It was truly a way for her to escape all the fear and pain of her cancer for a few hours. After meeting Dominique, she is now asking for riding lessons!
Thank you again,
Vivian's Mommy


From Sandy: It is rare I give a child a ride on Dominique. He cannot carry much weight. Vivian is 3 1/2 years old and cancer has been a part of her little life for most of those years. Of course her big sister also received a plush Dominique!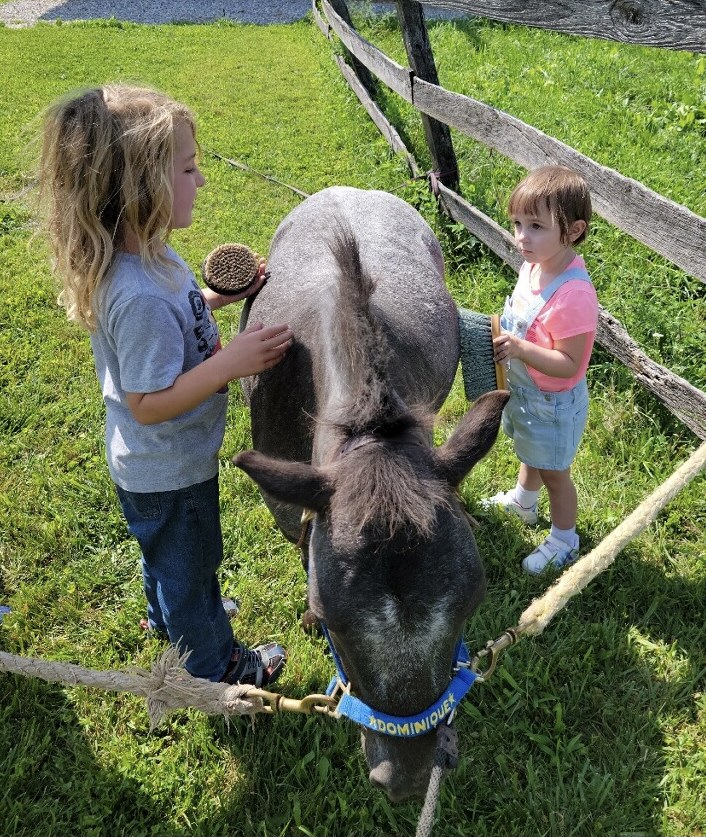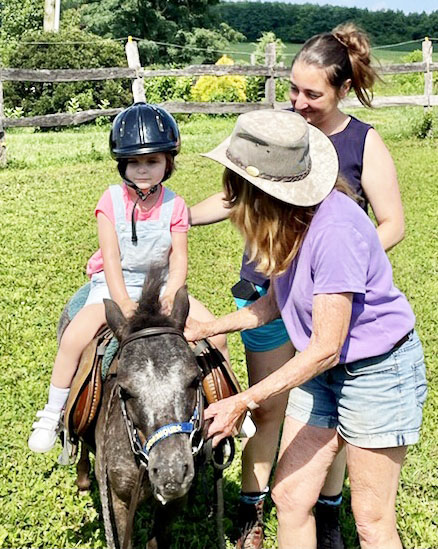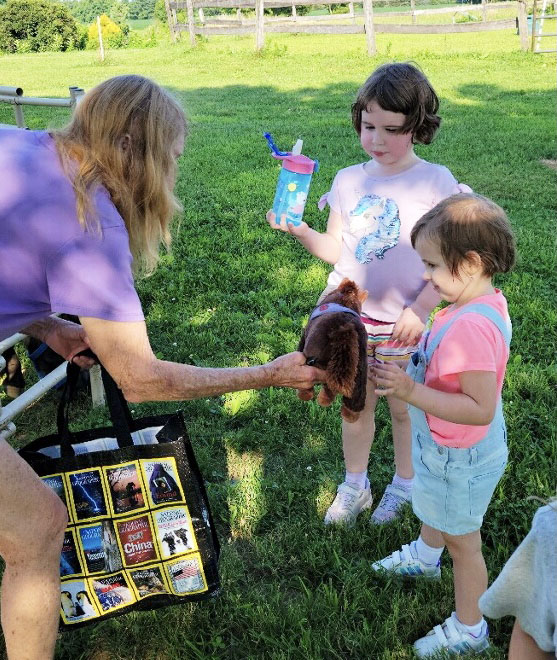 Dominique attended Susan Smith Rodiguez's 101st Birthday Party in Maryland on June 2, 2021! He was a perfect gentleman in her home and brought many smiles to all and much delight to Susan.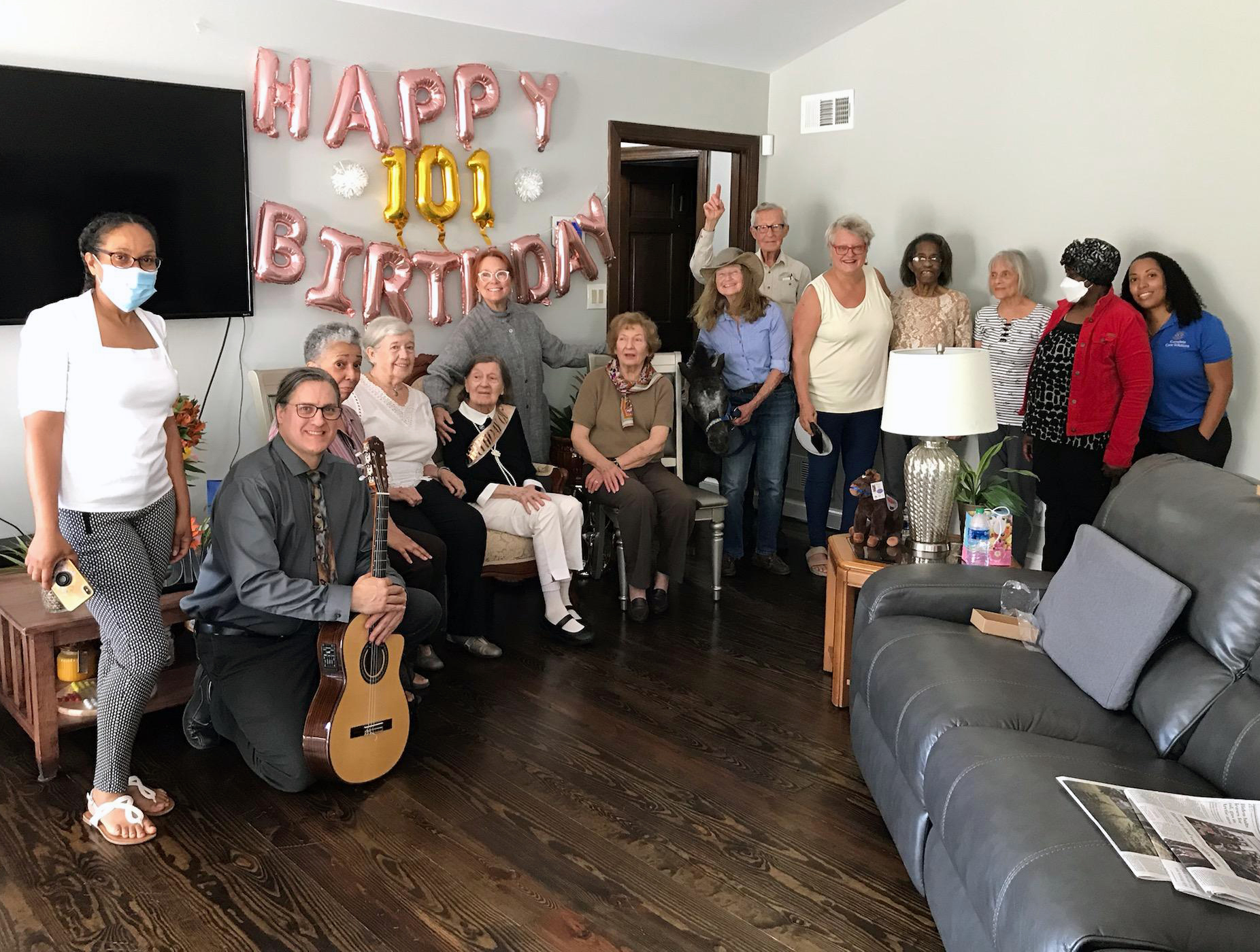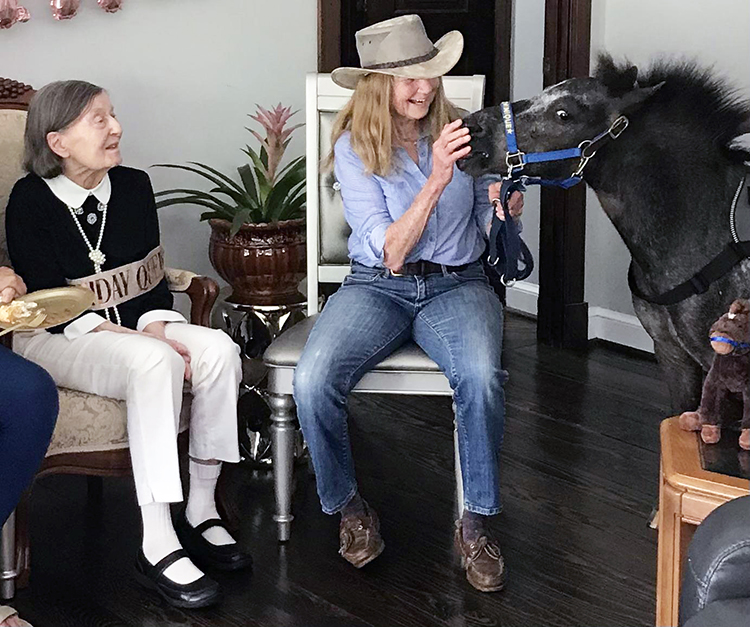 The following story is what Dominique's Smiles is all about for children, adults and families in many timeless ways - replacing the hurt and pain with good memories. Dominique visited Karen Blevins a few days before Christmas in 2020 and brought her a plush mini-horse. To see her joy and the smile on her face was very humbling. Karen passed on in May.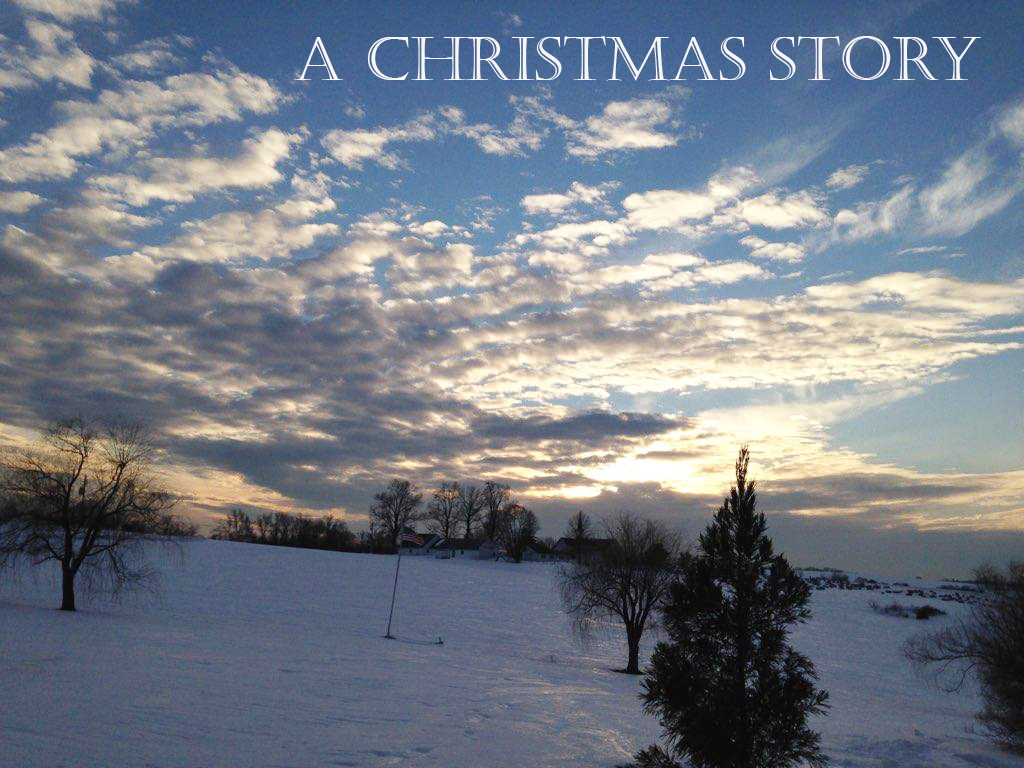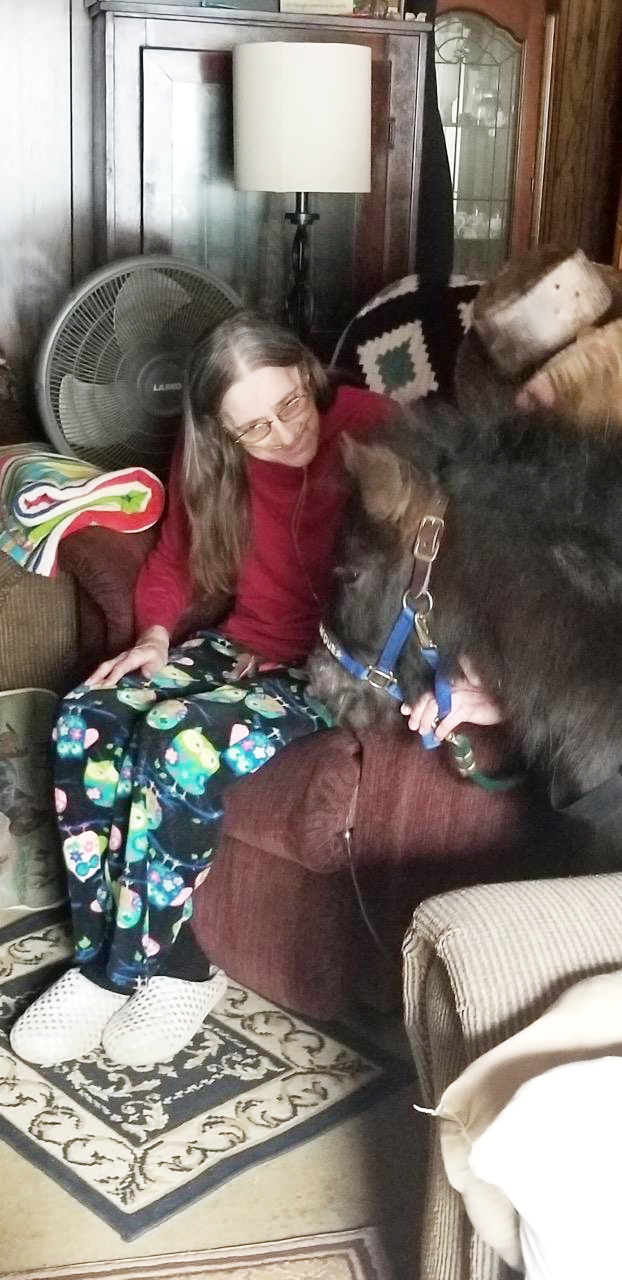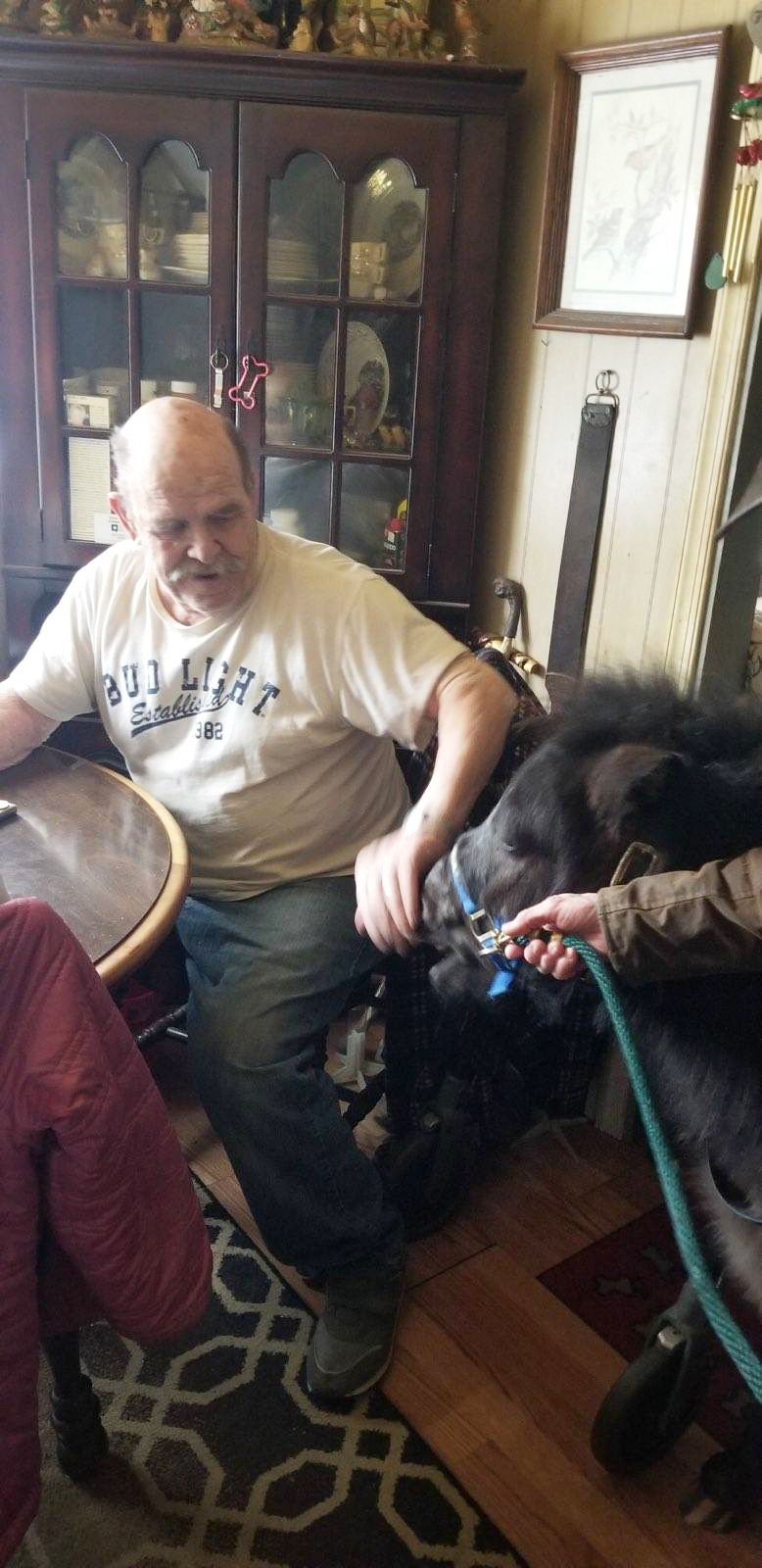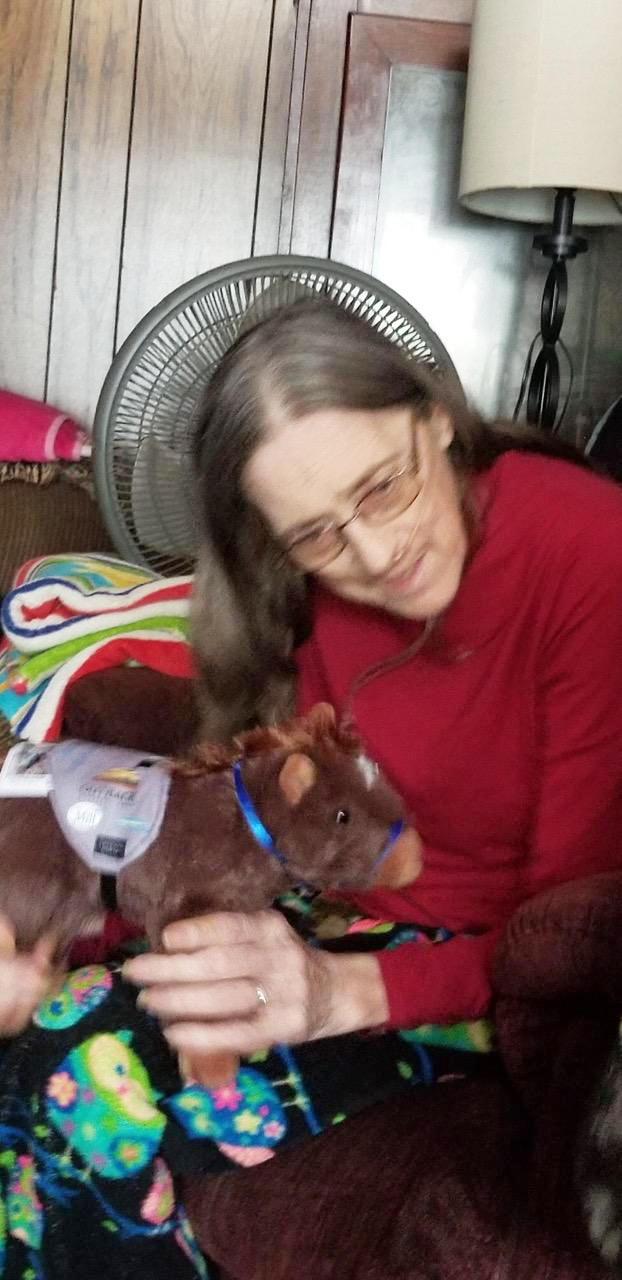 Christmas is too often associated with giving gifts. We tend to think we must spend hundreds of dollars to find the perfect gift for our loved ones. Sometimes the gift of a smile is the greatest gift we can give to those we love as well as folks we've just met. True to his mission, Dominique provided Christmas smiles this week to Karen Blevins who is house bound with multiple health problems. As you can see, Karen's husband Donald could not help but smile as well. Thank you Dominique and Sandy for making Karen's day! ~ Beth Innerst.
---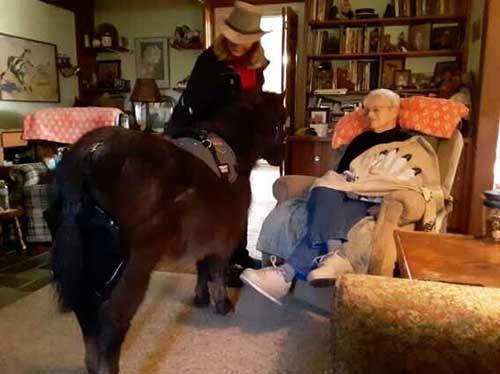 Anne Wagner, a horsewoman icon in York County, PA agreed to be our very first home visit. She knew how much this mission meant to me. We have shared many laughs over the years, and this was one more!
Dominique Bringing Smiles To People Getting Their Vaccine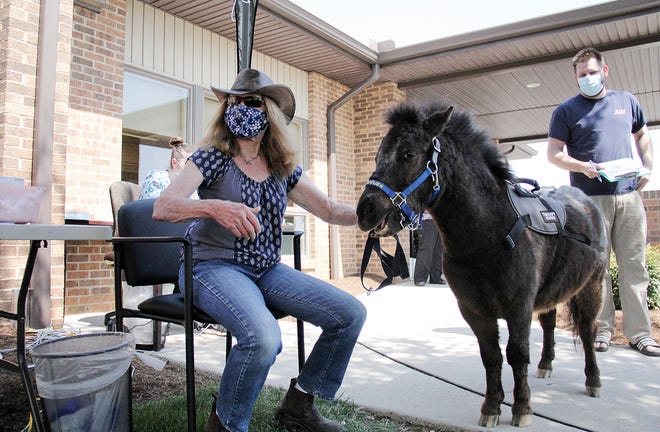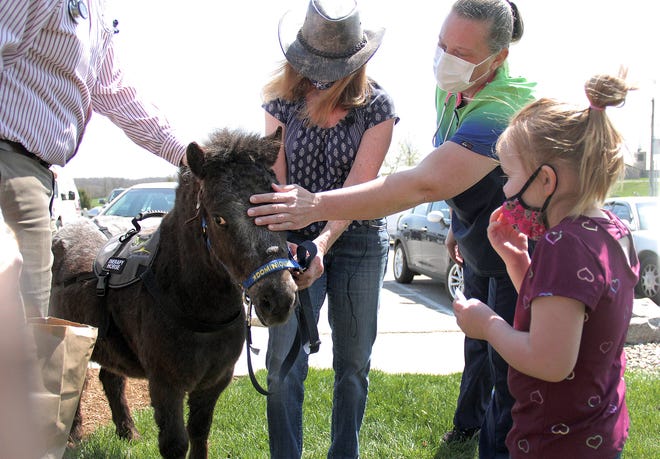 Dominique was glad Dr. Arcieri II invited him to Dallastown Medical Center to greet folks getting their Covid-19 shots!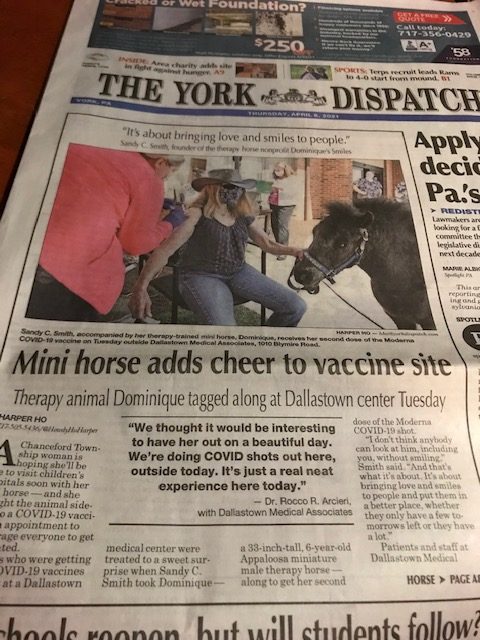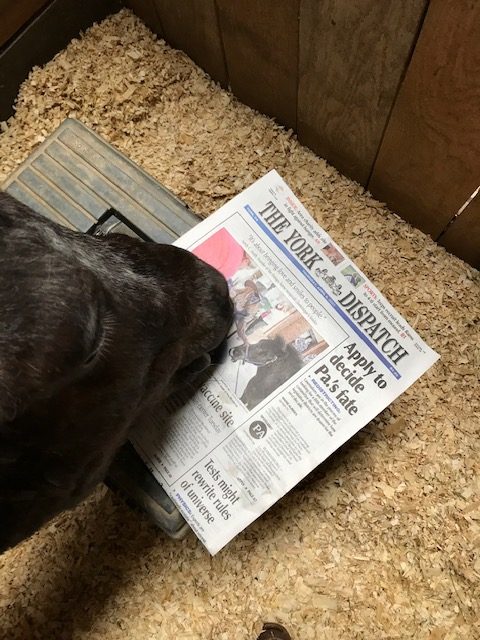 Wow, Dominique made the front page of The York Dispatch and approves his photo!
Park City Center Visit
Even though Dominique has been unable to visit children in hospitals due to COVID-19, nothing stops us from making people smile! On a recent visit to Park City Center in Lancaster, where we brought lots of excitement, we were joined by Abby Romberger, Pennsylvania Teen Miss United States Agriculture. Dominique brought smiles to people of all ages.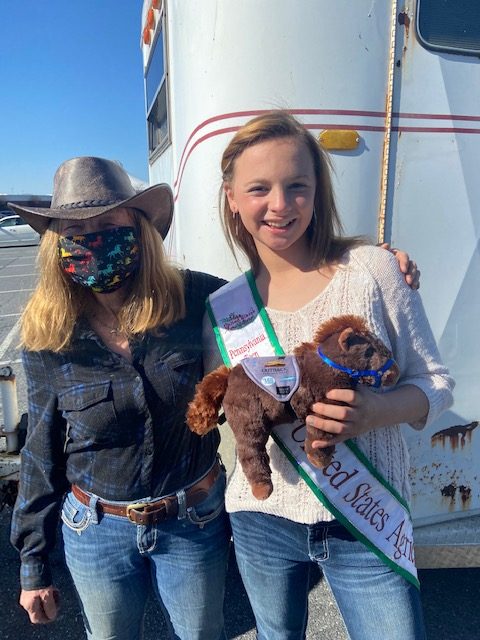 Our trips to Park City Center help keep Dominique tuned up for when he can finally visit children in hospitals. Abby shows off the 8" plush horse every child receives during our visit.